This world is filled with shiny things. Things that are designed to catch our eye and demand our attention. All it takes is a quick look around your daily life to realize that these things work. Commercials, end-cap displays, billboards, and pop-up ads don't ask to be looked at – their ability to capture our eyeballs is well documented and is utilized by companies everywhere.
The message we get over and over again is that this shiny thing in front of us will fill us up, will make us content. You are so close to a breakthrough in your life where you have all you want – you just need a little bit more. But we know from experience that more is never enough; those shiny things quickly lose their luster.
The Apostle Paul warned the church in Corinth about this exact thing. He was writing about the foundation of our life. We are so tempted to try and build a life that is based on the shiny things like, "Gold, silver, and costly stones." But these things will fail us. They will always leave us with that feeling that we need just a little bit more.
Paul suggests another foundation – the only foundation that lasts, the only one that truly works. If we need something on which to build our life, Jesus is the only answer. As he traveled from city to city preaching and teaching, this is the foundation Paul laid. 1 Corinthians 3:11 says, "In fact, no one can lay any other foundation than the one that has been laid, which is Jesus Christ."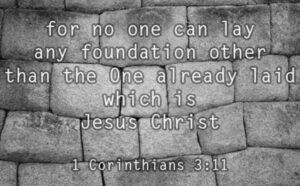 The wonderful thing about building your life on Jesus Christ is the confidence and security that comes from knowing that He cannot fail you. When Jesus came, He did so to fight your battles, to struggle against all the challenges and temptations that you face daily. He did so to take your place, to stand before God as someone who is righteous, as someone who is holy and yet as someone to take your punishment and your blame. Jesus fought against sin, death, and the devil on your behalf and came out victorious. And what is even more comforting is that He didn't stop serving you there. He promises to come to you through Word and Sacrament to deliver to you that forgiveness, that victory He won. He promises to work through these things to strengthen you in your faith and to build upon that foundation as you grow in faith and knowledge of Him.
When our life is built on Christ, there is nothing that can shake us. The world will change around us, our lives and circumstances will shift like sand, but our foundation will always remain secure. Jesus Christ is the same yesterday and today and forever. His luster will never fade. Instead, His true glory, the glory that is His as our God and Lord will be fully revealed on that day when we are welcomed into His Kingdom. That is a foundation we can count on.