A journalist was sent to study the homeless; her instructions were to gather information and write informative articles about their lives. As she visited a homeless camp, she approached a family: mom, dad and ten-year-old son. They were living in a tent and just getting by, day to day.
She soon learned how the husband had lost his job, how they had struggled to make ends meet and how they finally lost their house. She was happy to hear that, even though they were enduring such hardship, they looked forward to the day when they would be able to get back on their feet. She asked the little boy about his thoughts and was moved by his positive attitude as well. Her final question to him was, "If you could have anything you wanted, what is the one thing you would like to have for your next birthday?" He thought for a moment and answered, "A piece of plastic to cover the tent." He went on to explain that when it rains, the tent leaks, and a piece of plastic would keep them and their belongings dry.
Stories such as this one touch our hearts and help us to realize all that we have to be thankful for. Sadly, even with all that we have, houses, cars, jobs, etc., there are times in our lives that we find it hard to be thankful. Maybe we have just lost a loved one or have family members suffering with serious illness. Our happiness, our thankfulness, is not guaranteed based on our wealth.
True happiness and thankfulness must come from a greater source. True joy and happiness that lead to thankfulness come to us as a gift from God the Father, who sent His one and only Son into the world to redeem us from our sins. He did this through His life, his death on the cross and his rising again to life. He willingly sacrificed His life for us and willingly suffered the punishment of eternal damnation in our place. When He died on the cross, all of our sins were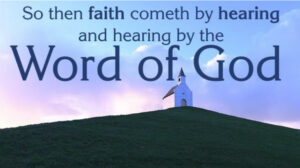 washed away and it is only through God-given faith in Him that God's forgiveness becomes ours.
As Scripture teaches, "So then faith comes by hearing and hearing by the Word of God." (Romans 10:17) For having such a great gift, we are indeed thankful and our hearts are full of joy. To learn more about this great gift, please join us for worship this Thanksgiving season.